NIFL Championship 
Knockbreda 0-3 Newington
IT was a perfect day for Newington as they scored three goals and a clean sheet saw them claim an invaluable three points against bottom-of-the-table Knockbreda at Breda Park.
Heading into this fixture, three points separated the teams with the North Belfast team second from bottom, but this win along with Dergview's draw against Institute means they have leap-frogged the Tyrone club on goals scored, which was an added bonus by the close of play.
Saturday's win was well deserved as although took them a while too get into this game, once they got into their stride they played some fine stuff.
They also got the breaks with their opening goal coming from Knockbreda's Adam Wright turning into his own net, but there was nothing ing fortunate with what came after and indeed, had good chances to make it an even more comprehensive win.
"It was a tough match and not an inch spared today," said Newington manager Paul Hamilton.
"To a man, the boys were brilliant and when the chances came they took them., I'm delighted with three points and the clean sheet.
"It speaks for itself (how important the win is) as Knockbreda are down at the bottom along with ourselves. Every point is precious in this league so I hope this kicks us on a wee bit.
"We've had a good performance, kept a clean sheet and scored three goals so we'll move on to the next game."
Full time @KnockbredaFc1 0 - 3 @NewingtonFC

— Newington FC (@NewingtonFC) March 4, 2023
Given the importance of this game, it was no surprise there was a bit if a frantic start with both sides aiming to set a high tempo without really getting the ball down and playing.
Gradually things settled and the early pattern was set with the hosts doing that bit better and were on the front foot for the most part with Newington looking a little unsettled.
Defender Kevin Bradley put his goalkeeper under undue pressure that led to a corner for the hosts, from which, Ewan McCoubrey's ball in landed on the top of the crops bar, although Newington goalkeeper Nathan Kerr appeared to have it covered.
Newington were going long out from the back and they did enjoy some success early with a corner won that was swung in by Jack Reilly and met by  Fra Brennan, but he couldn't get much on it and his follow-up was easily gathered by Jonah Nicholl in the home goal.
Reilly would then make a vital block on the other end from Charlie Dornan and midway through the half, Knockbreda had their best opportunity of the opening period as a cross from the left gave Jack Montgomery a free header, but he failed to fully meet it as the ball glanced well off target.
Newington had a similar chance shortly after with Gary Warwick making a nuisance off himself and managing to intercept and get a cross in that just evaded Darren Stuart, but suddenly the visitors found themselves and began to put some decent moves together, one leading to a corner that was taken by Warwick and struck the butt of the near post and cleared.
There was a sense the North Belfast side was beginning to get on top and on 40 minutes it paid off as Conal Burns jinked inside from the left wing to make room for a shot. Knockbreda defender Adam Wright swung a boot to clear back k to his goalkeeper but got far too much on it as the ball flew into the bottom corner of the net.
The hosts had a chance to hit back soon after, but Igor Rutkowski couldn't get enough on his header from a Jack Montgomery cross, while a late attack from the visitors came to nothing as they took a 1-0 lead into the break.
Knockbreda came out with intent at the start of the second half and Lee McGreevy had an early effort that was too high, but this spell was short-lived as Newington really ought to have doubled their money when Paul Donnelly slipped Reilly in, but he didn't get enough purchase to trouble Nicholl.
However, the goal would come on 52 minutes as this time, Donnelly's ball in from the right was dummied by Warwick and Darren Stuart swept home.
Newington skipper Richard Gowdy then saw his cross-cum-shot gave Nicholl enough to do, but the goalkeeper held on at the second attempt.
The onus was on the hosts to find a way back but chances were thin on the ground aside from a well-struck Callum McVeigh free-kick that whistled just off-target, but it was Newington with the better chances and they had a glorious opportunity to seal it on 73 minutes as the ball broke with substitute Michael Morgan offside, yet Stuart was on and he scampered clear with Morgan on his shoulder, yet opted to go himself with the effort across the face of goal and wide.
Morgan then got clear along the right wing and opted to pull back when perhaps the shot was the better option as the danger was cleared, while the ball then just wouldn't sit for the 18-year-old from Stuart's cushioned header.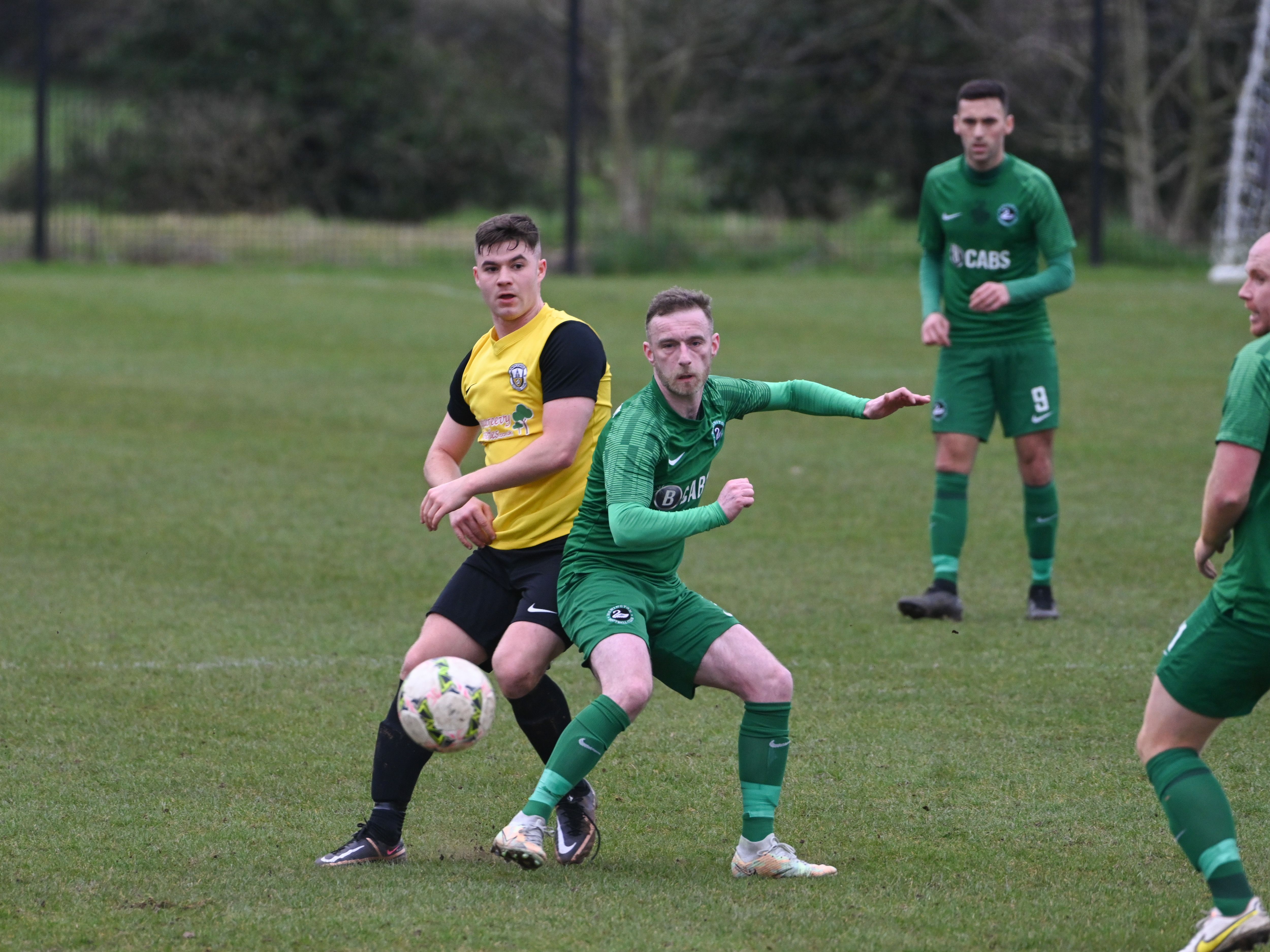 The offside flag put the breaks on a couple of Knockbreda moments, while Fra Brennan made a crucial block on Dornan and Rutkowski's driven effort from outside the box whistled over.
But the points would be sealed by Newington on 85 minutes as substitute Matthew Gorman broke out from the back and did well to play into Morgan out on the right who would cut onto his left and curl home to seal a huge three points that sees them move above Dergview on goals scored, while Knockbreda are now six adrift at the bottom of the table.
"When we settled down we used the ball well," Hamilton added.
"At half-time, we asked them to step it up another level and the boys did.
"We'll enjoy today but then dude ourselves down and prepare for Ards (next Saturday, Solitude, 3pm), which will be a tough game as they are a good team."
KNOCKBREDA: J Nicholl, K McAuley, M Greer, A Wright, C Dornan, C McVeigh, A McDermott, L McGreevy, E McCoubrey, I Rutkowski, J Montgomery (L Dickson 88)
NEWINGTON: N Kerr, F Brennan, K Bradley, E Hughes (A Casey 88), J Reilly, R Gowdy, C Burns (F Rice 67), G Warwick (M Morgan 67), P Downey (P Slane 83), P Donnelly, D Stuart (M Gorman 83)
Goals: A Wright (OG) 40, D Stuart 52, M Morgan 85
REFEREE: Ryan Hanna