WORK is under way to remove tonnes of rubbish illegally dumped in a North Belfast site.
The waste was discovered in a unit at Edenderry Mill Industrial Estate on the Crumlin Road, as well as an illegal dumping of waste on derelict land nearby.
On Monday, local residents held a protest at the site calling on statutory bodies to work together to remove the waste.
Local people said that a number of residents have left their homes due to large numbers of rats and flies as a result of the rubbish which includes used mattresses, medical equipment, food waste and gas bottles.
It is understood unit 15 has no permit or authorisation for waste activity with none of the necessary safeguards in place.
Local DUP councillor Brian Kingston said, "We were contacted three weeks ago by a resident who had visited the industrial estate and had seen a large amount of waste material being stored in an industrial unit. 
"We reported this to Belfast City Council Environmental Health officers asking them to investigate this operation, in the belief that this was the cause of recent widespread complaints by residents of flies and rats in the Sydney Street West and Cambrai Street areas of Shankill and Woodvale.
"Council officers confirmed that this was an illegal waste storage facility and referred the matter to the Northern Ireland Environment Agency, which is the lead agency for waste management, for investigation with a view to prosecution.
"As we received increasing complaints from residents about the bad odour, flies and rats, we have continued to push Council and NIEA officials for greater urgency in closing down this operation and removing the waste. 
"Whilst recognising that due process of an investigation needs to occur, we have pressed that this should be regarded as a major health risk incident and should be treated with appropriate urgency. We also requested baiting of sewers in the vicinity with rat poison by Council pest control officers, which we are told has occurred.
"On Saturday afternoon, William Humphrey and I attended a community protest at Edenderry Mill by residents during which we had opportunity to see for ourselves the huge volume of waste being stored in this unit.
"This is utterly abhorrent and reckless at a location within 20 yards of pensioners bungalows and a local primary school and within a densely populated area. PSNI officers also attended and were astounded by the waste mountain being stored and the flies present within the unit. There is also hazardous material present including asbestos sheets and oxygen cylinders.
"We also visited a second site further down the Crumlin Road where a large volume of household waste has been dumped on derelict industrial land beside a car wash, which we had also reported to BCC and NIEA.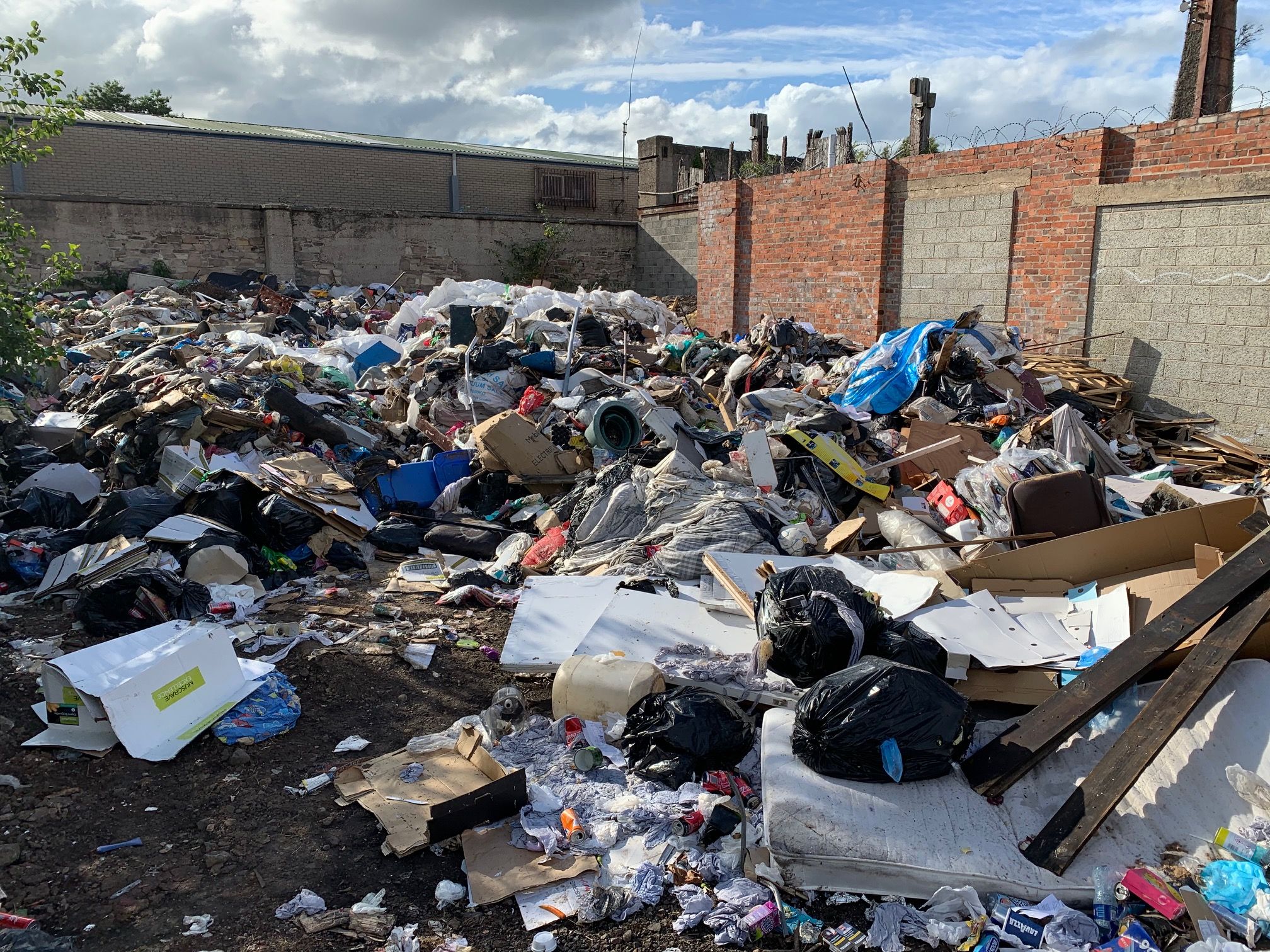 "It is scandalous that those responsible for the waste at both locations have so little regard for the consequences of their actions for local people.
"As DUP representatives we are continuing to escalate our demands for statutory response to remove this waste due to the health risk it poses and we will not relent until it is removed."
The Northern Ireland Enviornment Agency (NIEA) have now secured a commitment from Edenderry Mill owners that they will remove the waste.
NIEA added they will monitor progress and will take further steps if necessary.
A NIEA spokesperson said: "We are investigating the unauthorised disposal and treatment of controlled wastes at Edenderry Industrial Estate and the unauthorised disposal of controlled wastes at a site adjacent to the junction of Hillview Road/Crumlin Road.
"The agency are currently making arrangements for the waste deposited on the latter site to be removed. 
"As these investigations are on-going it would not be appropriate to comment further at this stage."