In October 2015, Michael Conlan became Ireland's first-ever male World Amateur champion. This article first appeared then. 
IT is almost a standard response for athletes to say they are looking forward and not back, but given the year Michael Conlan has just experienced, who can blame the 23-year-old for reflecting on his annus mirabilis knowing it doesn't get much better that this?
The West Belfast man and fellow Olympic medallist, Paddy Barnes began 2015 with Olympic qualification in mind, with a gruelling seven fights in 15 weeks in the World Series of Boxing (WSB) as part of the Italia Thunder franchise their route to achieve this objective.
The pair gave up their appearance fees to ensure they boxed in each round and while Barnes won all seven of his bouts, Conlan's path was a little bumpier as a he went into his final fight not only needing to win, but hoping Azerbaijan's Magomed Gurbanov lost.
Against all odds, this transpired as his victory over Jose Vicente Azocar stamped his ticket to Rio. With his Olympic place secured, the Clonard bantamweight could have been forgiven for taking it easy for the rest of the year, but he elected to take part in the European Championships despite just a couple of weeks' preparation,.
Not only did he take European gold in Bulgaria, but he was named 'Best Boxer' and therefore went into the World Championships in buoyant mood where last Wednesday, he defeated Murodjon Akhmadaliev on a unanimous decision to become Ireland's first ever male world champion.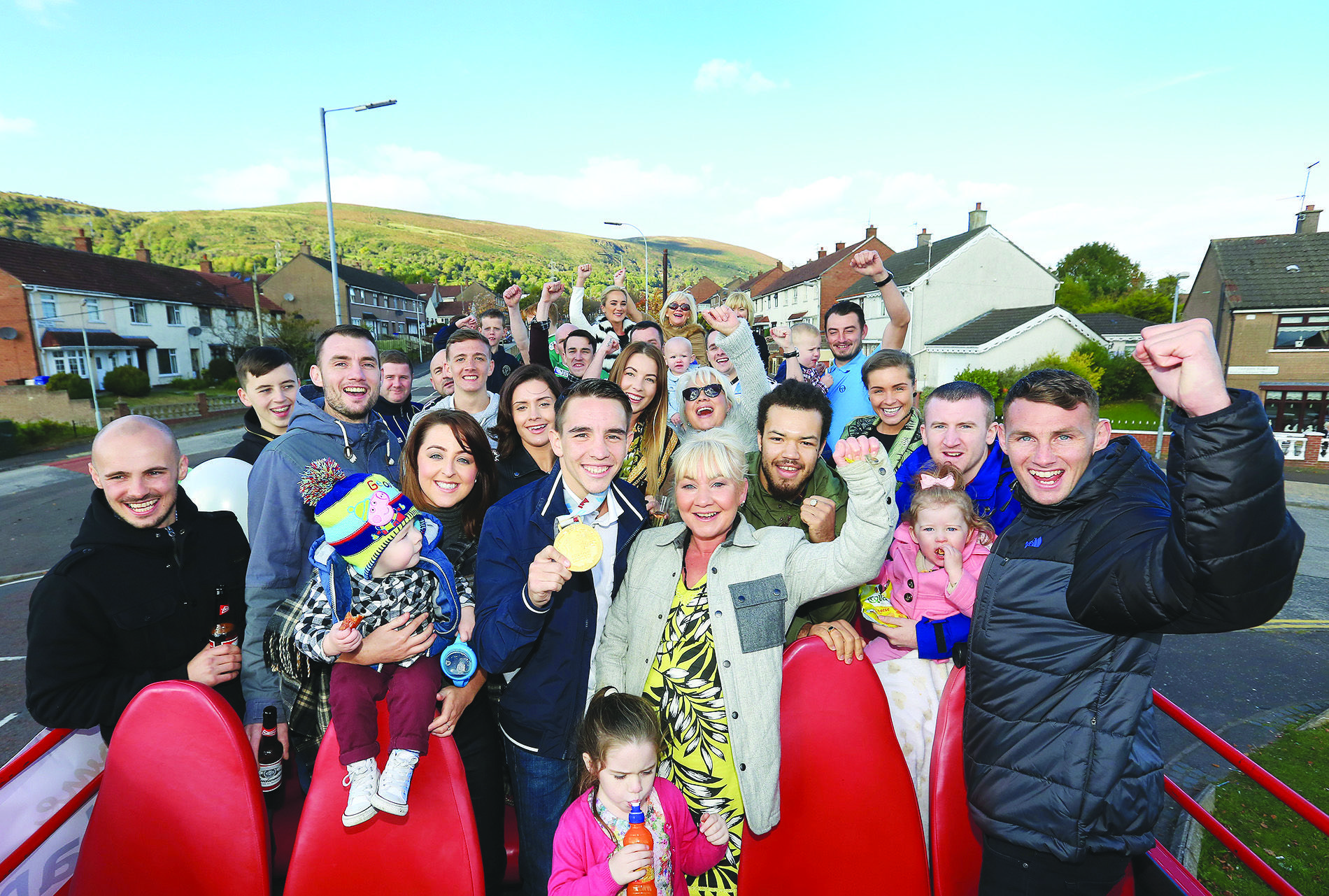 Outside the ring, the birth of his daughter Luisne and engagement to fiance, Shauna have capped quite an incredible 2015 for Conlan. "I think this has to go down as the best year of my life," said the Irish team captain who returned to a hero's welcome on Saturday when he and his friends, family and Irish team-mates were taken on an open-top bus from City Hall on a journey through West Belfast. "It's going to be really hard to top.
Even if I was Olympic champion next year, it would be very hard to top this year. "The birth of my daughter – you can't beat that. That's the best thing that's ever happened to me and I know if I have another one, it will be so special, but the first one is always going to be extra special.
The History Maker! Michael Conlan world championships Gold medalist, Doha 2015!🍀🍀🇮🇪🇮🇪 #CaptainFantastic #TeamEire pic.twitter.com/ZSxKADXctZ

— Emerald Isle Boxing (@EmeraldBoxing) October 14, 2015
"To go and qualify for the Olympics started the year brilliantly because I wanted to have the time with my daughter. "The way it all went in the WSB and that I thought I was going to retire from amateur boxing and move to professional because of the way it all went was heartbreaking. Then how it turned out and I made the qualification was incredible.
"That meant for the first time in a few years I was able to have a proper family holiday and I could fit them in around a very busy schedule. "Then to got to the Europeans and to win gold and get 'Best Boxer' was brilliant. To do that with ease really having only two weeks' training behind me was great. I was happy with how I was performing and then for the World Championships, I told everyone I was going to be World Champion.
"To go and take that title, to be called the world champion is phenomenal." His victory in Doha was certainly phenomenal, with his performances throughout the competition befitting of a world champion.  
Tricky Yes, there was a tricky opening fight against Brazil's Robenilson de Jesus and that right hook that floored him in the final against Akhmadaliev, but for the most part, the man who is the first from Ireland to win medals at the Olympics, World Championships, European Championships and Commonwealth Games looked levels above – astonishing when one considers the standard of competition.
"The quality in these World Championships has been higher than any other because you had to qualify for them," he explained. "Every person there was a continental medallist so it was hard. Going in I knew it was going to be tough."
While the competition was fierce, so too was the pressure to deliver, but the Falls man did just that, breaking new ground for Irish boxing while engraving his name into the history books. Standing on the podium will be something he will cherish forever and regardless of what happens in the future, he will be remembered for being the man that was the first to reach such a position.
"It was special. It was the same feeling I had when my daughter was born, just unbelievable," he says of the presentation. "I was probably a bit more emotional when my daughter was born as I let a tear out, but this time I kept them in when I was on the podium.
"I love when people say 'You are a world champion.' I just love hearing it. It's amazing that I created a bit of history. "I'm only 23 years of age, so it's something special to go and do that.
"To be the only one to have ever done it – you never know, it may not happen again although I hope it does – is special." Of course, talk has already turned to next summer's Olympics and the prospect of completing the sweep of gold medals at the majors. There are the 2016 Irish Elite Championships taking place in December this year (to allow for next year's Olympic qualifiers) but he laughs and says there is 'no way' he will be back in the ring this year, instead electing to take time out with his family and rightly celebrate his success in what has been a year where everything has fallen into pace.
"I will take a bit of time off now with the family," he confirmed. "I have to think of my fiancée more than anything because with me being away all the time and her having the baby by herself was really tough.
"It was tough for me too, but she was a saint the whole way through it. "It's also been phenomenal the support I have got from everyone. Without that support I wouldn't be where I am as that's what puts me on the map and has people talking about me. I have to give everyone my thanks."
A humble statement from a humble man. There are many who are involved in Irish boxing circles or just have an interest in Irish sport happy to return their thanks to the man who broke the mould. Conlan on his last 16 bout (2-0 v Robenilson de Jesus, Brazil)
"The first fight was probably the hardest because of how hard it was. I was fighting a two-time Olympian who had longer arms than I had legs so it was tough to get inside him. "Once I worked him out after the first round, it was game over."  
Conlan on his quarter-final (3-0 v Tayfur Aliyev, Azerbaijan)
"In my quarter-final after the first round, I was thinking 'Is this really this easy?'
"That's not being cocky, it was just that I was thinking if he was going to try. The second I came out and thought the same, that he was messing about because he didn't seem to be trying to hit me.
"Going out for the third, I thought he was going to come out and try to take my head off so I needed to be switched on, but he didn't put the foot down and didn't seem to want to make a mistake as I was countering him each time."  
Conlan on his semi-final (3-0 v Dmitry Asanu, Belarus)
"In the semi-final, I thought I won all three rounds so I don't know how he won the second. "I think he hit me three or four times just and I caught him a lot more. Maybe they (the judges) were trying to make it exciting in the last, but I breezed it. He is a quality opponent too that has won a lot of medals, but all I needed to do was keep the distance and it all fell into place."  
Conlan on his final (3-0 v Murodjon Akhmadaliev, Uzbekistan)
"In the final, I had the game plan to try and box but I knew I wouldn't be able to last on my toes for the full three rounds. It would have looked ragged and I would have ended up losing the fight.
"I know I can fight inside and going forward, so I had to try and push him back, beat him at his own game which I did and felt very comfortable doing that. "I felt very strong, but he could bang. I felt his punches throughout the fight, but I didn't think he could hurt me or even put me down, so I wasn't cautious enough. I didn't even need to go forward. I just needed to box, but I felt really embarrassed because he hit me with a peach of a shot right on the chin.
"It was a flash knockdown, but I was a bit dazed too, but I still had my sense. As soon as I stood up my head was clear and I was ready to go. 
"That round was my best until that point as well."