THE acting principal of Edmund Rice College in Glengormley has praised pupils and staff at the school in the wake of a "huge anomaly" in A Level grades.
At De La Salle College in West Belfast and Edmund Rice College in North Belfast on Thursday as pupils received their results (see video below) there were not the usual celebratory scenes — due to strict measures imposed to enforce social distancing.
As pupils across the North received their results on Thursday morning, regional exam board CCEA admitted there will be anomalies in grades awarded but said there had been a "slight increase across grades".
With exams cancelled due to Covid-19, grades have been awarded based on predicted grades from schools, which have been standardised by CCEA through a system of "statistical modelling".
Paul Berne, Acting Principal of Edmund Rice College said the anomalies in graded awarded to pupils at the Glengormley school were so grave in one subject that no pupils achieved A* to C grade.
He said CCEA's system lowered 74 per cent of teacher-calculated grades by one and even two grades.
"Once again, our pupils have excelled with the vast majority of pupils receiving three or more A Levels at grades A*-C," he explained.
"Many received 3 straight A grades with seven different subjects achieving 100 per cent pass rate for all pupils. This is testimony to the hard work and dedication of our pupils, teachers and parents. 
"However, there are a number of pupils who we feel were disadvantaged by the pandemic and we were assured that wasn't going to happen. CCEA lowered 74 per cent of teacher calculated grades by one and even two grades. 
"There is one subject in particular that has an 80 per cent three-year average pass rate in Edmund Rice College. Pupils have an extremely high success rate in this subject, yet due to the algorithm and statistical modelling, none of the pupils achieved A*-C. 
"That is a huge anomaly in terms of teacher professional judgement and previous success rate and outlines the fundamental flaws in the modelling process. 
"Many of these students are university-bound dependent on that grade and they have not received what they deserved. 
"We have contacted CCEA and will challenge this through appeal and hope that our pupils receive the grade they fully deserve."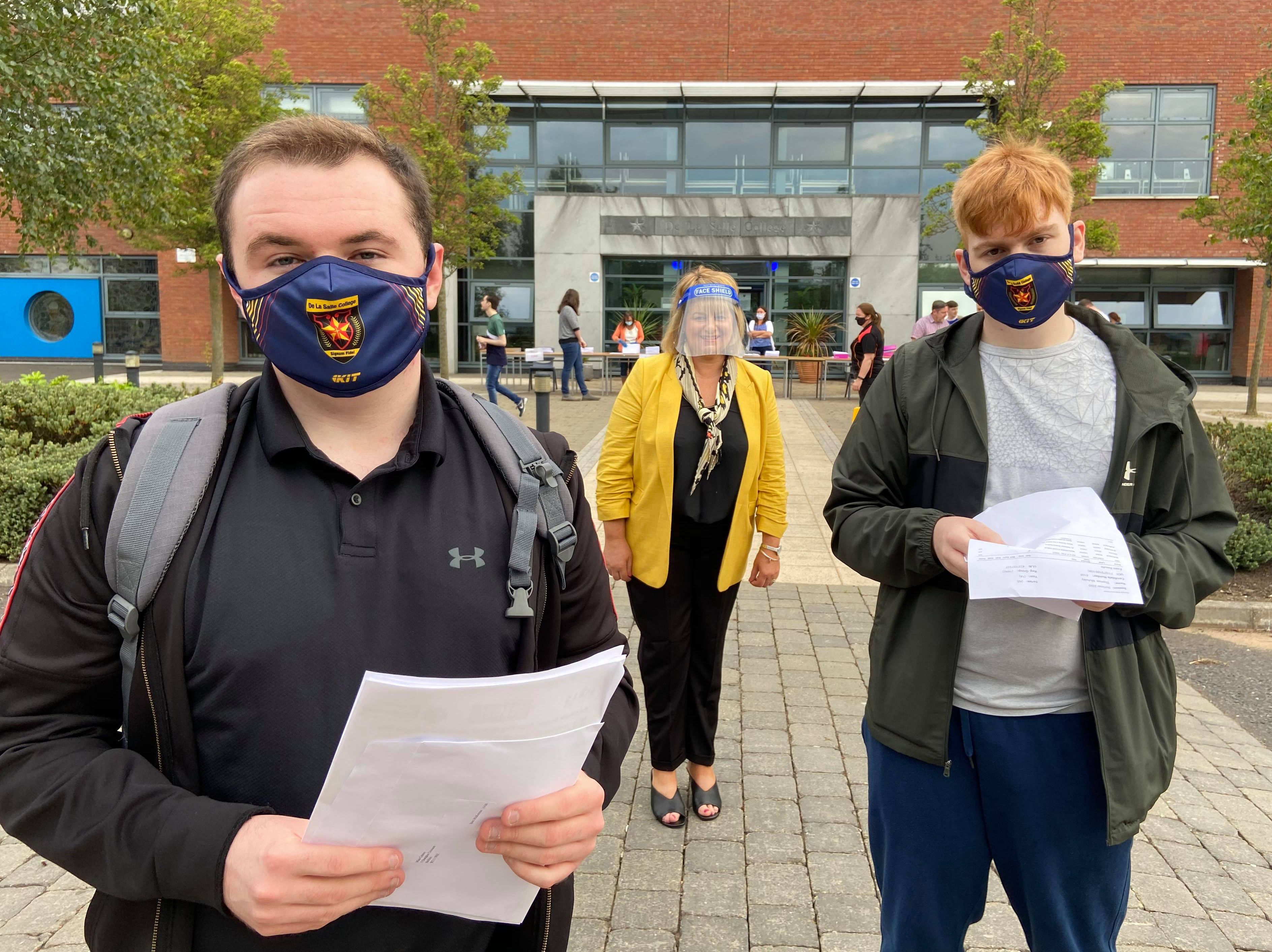 In Scotland, pupils will receive results based on grades predicted by their teachers alone. It follows a major U-turn by the Scottish government, which abandoned a moderation system for grades by the Scottish Qualifications Authority (SQA).
Despite the changes in Scotland, CCEA said grades in the North would still be awarded "based on a combination of teacher professional judgement and statistical modelling directed by the Minister of Education".
"A key element of the process is to ensure that qualifications standards are maintained this year," a CCEA spokesperson said.
"There has been no change in this direction or our approach."
Education Minister Peter Weir criticised the Scottish government's decision, stating that it would lead to enormous increases in grades and undermine the credibility of their qualifications.
"No system in itself will be perfect, that is why I think in terms of the appeals mechanism this year we have made changes to go beyond the normal situation of simply where there is a process issue," he stated.
CCEA Chief Executive Justin Edwards said top A-level grades would have risen by at least 10 per cent if data from schools alone had been used.
Commenting as exam results were released on Thursday, Mr Edwards said there had been a "slight increase" in grades across the North.
"Since the cancellation of the exams, it has been a very unsettling and challenging period for the education community, particularly our students," he said.
"Northern Ireland's students, and those across the UK, Ireland and further afield, due to COVID-19 were unable to sit their exams, as has been common place for so many before and will be for so many in the future.
"All of us at CCEA, working closely with the education community, have strived to ensure that students are able to progress this year. As a result of this collaborative work, we have delivered grades to students which we predict they would have achieved had they sat the examinations and which carry the same value as in previous years.
"Northern Ireland students have seen slight increases across grades, which are comparable with previous year on year performance for this particular year group.
"Mathematics remains the most popular A-level overall with one in 10 students studying the subject. The proportion of students taking STEM subjects has increased slightly and now accounts for almost 40 per cent of A-level entries in Northern Ireland. Languages have also experienced a slight increase with Spanish being the most popular subject.
"The grades received by students this morning will enable them to progress to the next stage of their journey, be it in education or employment. We wish them all every success."
In an email to principals on Wednesday evening, CCEA said it would "work through the anomalies as quickly as possible so that you can reassure students that any queries regarding their results will be resolved as quickly as possible".