A VIDEO of a brother and sister duo who performed at the Cultúrlann as part of Belfast Tradfest has gone viral on Facebook– with over 300,000 views across the world.
Séamus and Caoimhe Uí Fhlatharta are a sibling singing sensation from the Connemara Gaeltacht and released their first EP this year. They are renowned for their Sean Nós singing and their unique arrangements of both Irish and English language songs. 
Performing Eileanór na Rún, one of the six tracks from their debut EP, the magic of their talent was captured by Niamh Ní Ruadhagáin before the two performed at their sold-out concert in the Cultúrlann. 
The stunning video created by Niamh quickly gained popularity before taking the world by storm. The video has been shared in America and Canada, across Europe and Australia and has received over 10,000 reactions to date. 
As the views continue to rise, a sea of comments praises the duo's beautiful harmonies with one comment stating: "This talent should be directed to represent our country in the Eurovision."
Séamus and Caoimhe said they are both "blown away by the response" of their performance of Eileanór na Rún. 
"To see people from all over the world engaging with our language and culture in such a positive way is very special. Thank you to all at Cultúrlann McAdam Ó Fiaich for a very special night at Belfast Tradfest," they said.
Niamh Ní Ruadhagáin – who works as a Marketing Officer for the Cultúrlann – created the video.
"I am a huge fan of Séamus and Caoimhe and have been following them for a while. It was my first time seeing and hearing them and I wanted do something like this.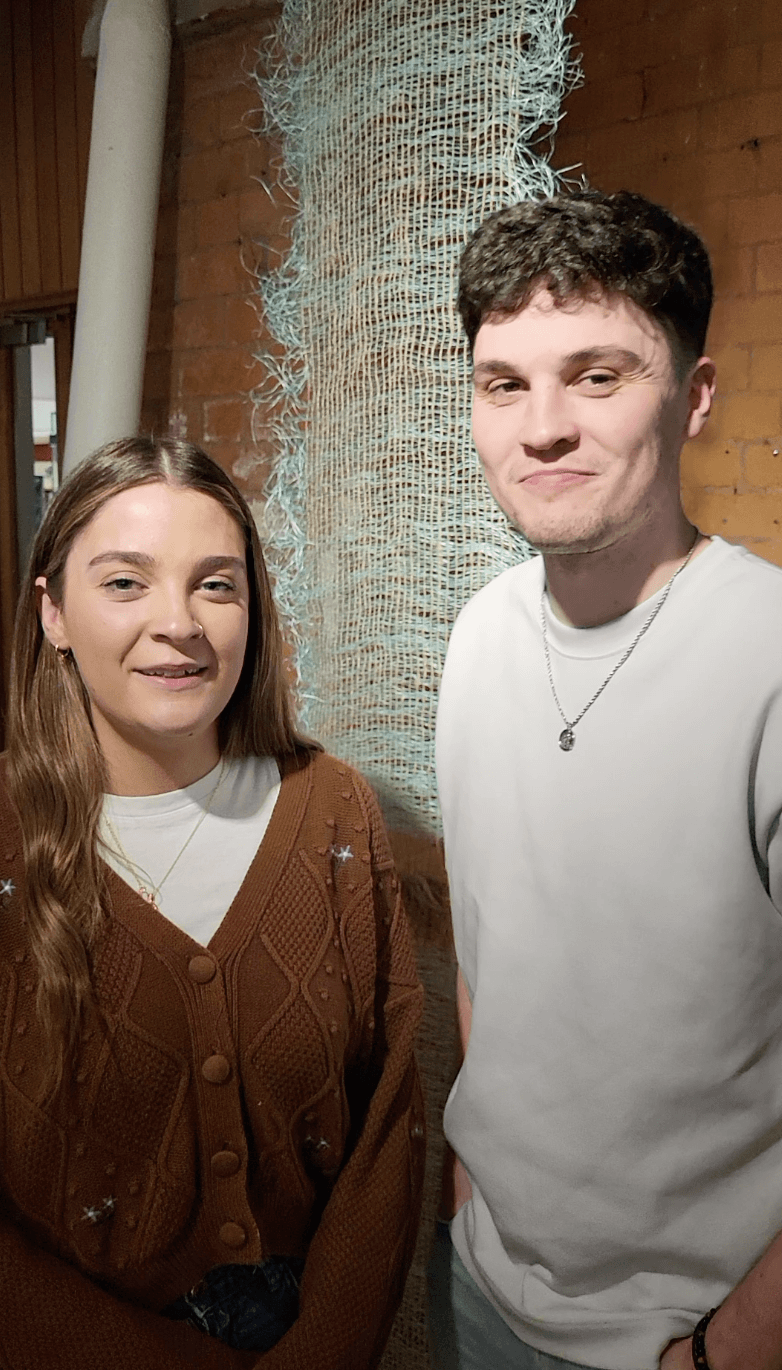 "It's great for the Cultúrlann, it shows the fantastic singers we have and the high standard of music at Belfast TradFest which has been very successful this past few years. They are unbelievable musicians; they've earned it and I'm just happy to have done that for them."
Niamh said the video quickly went viral with the top three regions being Galway, Dublin and Ontario in Canada.
"Someone who shared the video in Tipperary wrote that it was such beautiful music and so lovely to hear our language and our songs still being kept alive. They commented 'does anyone in South Tipperary know of any Irish language classes'.
"The whole post is in Irish but it's being shared all around the world. It just shows you that music translates no matter what language."
TradFest's Artistic director, Dónal O'Connor said: "Séamus and Caoimhe's concert in the Cultúrlann was fantastic and the video has now gone viral. When two people from the same family are singing together, there is something especially magical and special about the music.
"Tradfest is growing and this year was the second winter festival we had. In July, the fifth summer traditional music festival will take place in Belfast. We saw the opportunity to create the winter school for young people and to take the best musicians to the city, that's how it started and it's going from strength to strength."
Séamus and Caoimhe's manager Barbara Galavan said: "It's had an incredible number of views in a very short time. What Séamus and Caoimhe do – particularly the special vocal harmonies they produce – is unique. The simplicity of that video, shot in a corridor at the venue, captured that uniqueness and it clearly resonated with people. Since it went viral we've been contacted by venues and festivals across the world anxious to have them visit. The future looks very bright for them!"