Northern Switchgear Antrim Senior Football Championship, Group Four
Naomh Éanna 0-13
Gort na Móna 2-4

SIX points from full-forward Stephen O'Connor inspired Naomh Éanna to an opening Championship victory over Gort na Móna at a sunny Hightown this afternoon.

The hosts were full value for their win, but it took them until the second quarter to take a grip on proceedings after a bright start from the Turf Lodge club who didn't make the most of their early dominance.

Still, the visitors hung in and aided by a pair of goals from Padraig McHugh after the break, they were within striking distance at the end, but couldn't engineer a third major that would have seen them take a share of the spoils.

When McHugh did find the net, Naomh Éanna - and O'Connor in particular - found a response to keep them in the lead as they produced some excellent passages of play with Gort na Móna gradually losing their way in attack.

During that early period, centre-back James McAuley helped drive his team on, linking play and getting forward to kick a fine score himself, whilst the Gort will rue two goal opportunities that got away in the first half.

With the breeze at their backs, it took the Gorts little time to settle into the game with Dessie McClean setting up Patrick McCaffrey for a second minute score.

They were to be a little wasteful thereafter, kicking two poor wides and on six minutes, a long ball fielded by McHugh saw him send McCaffrey in on goal, but Naomh Éanna goalkeeper Paddy Flood got down to smother the shot.

The hosts had struggled to settle initially, but drew level with Ruairi Scott curling over a free, but McCaffrey hit back with one of his own on 13 minutes to put Gort na Móna back in front.

McAuley then showed the way for the Glengormley men with a fine effort out on the right to make it 0-2 apiece as the game stopped for the water break.

Whatever was said to the Naomh Éanna players during this brief halt clearly struck a chord as they looked much more fluid as play restarted.

They had a goal chance of their own, but Michael Morgan was snuffed out by the Gorts' defence, although a good catch and point from Peter Healy did give them their first lead of the game.

At the other end, Dermott McVeigh curled over a peach of a score from a tight angle out on the right off his left boot and they really should have found the net straight after when Dessie McClean found himself through on goal, but whilst his lob beat Flood, it didn't evade the crossbar as the ball bounced out to safety.

Naomh Éanna made the most of this let-off as they took over for the rest of the half and built the foundations for their win, reeling off five points on the spin before the break.

Kristian Healy, Odhran Eastwood and the fist of Michael Moran all found the target before O'Connor checked in for the game, converting after taking a mark and then creating space to curl over and make it 0-8 to 0-3 at the break.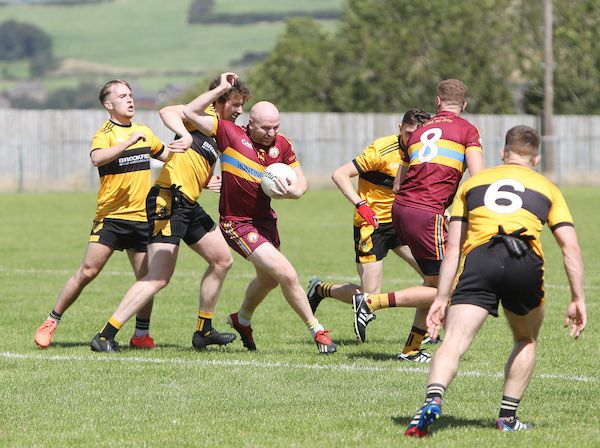 Now playing into the wind for the second period, Gort na Móna had a tough task, but like the first half, they began brightly but again couldn't translate this into scores.

They were punished as O'Connor gathered off the break to score, but the visitors did get the goal their challenge needed on 35 minutes as McVeigh gathered from a long delivery, popped to McHugh who found the net.

The Gorts were unable to build upon this as O'Connor kicked another two excellent points with Ruairi Scott stroking over his second free of the afternoon to wipe out the major and give Naomh Éanna a 0-12 to 1-3 lead.

Still, the visitors stuck too the task and they grabbed another lifeline on 45 minutes when McVeigh was judged to have been held back in the penalty area when trying to gather and McHugh stepped up, beating Flood with a low shot that brought the visitors back to within three.

They could probably done without the break for water minutes later as Naomh Éanna again took charge and it was O'Connor again who did the damage, curling over his sixth of the day from range to make it a two-score game.

The hosts were now able to play possession, making Gort na Móna chase after any breaks and they were to remain comfortable for the most part.

Late on, the Gorts did get their hands on the ball with Darren Boyd kicking a good score from distance with the outside of his boot to leave three in it, but their only opportunity for that comeback goal came when awarded a free, but there was a square ball infringement when the kick was delivered and from this, Naomh Éanna took a hold of the ball and didn't give it back as the final whistle sounded.

Naomh Éanna will enjoy a bye on Wednesday ahead of their return next weekend, whilst the Gorts will look to put their first points on the board against St Gall's in midweek.
NAOMH ÉANNA: P Flood; C McAuley, C Lyttle, K Jennings; C Thompson, J McAuley (0-1), R Kennedy; M Morgan (0-1), N McKeown; P Healy (0-1), E Nagle, K Healy (0-1); R Scott (0-2, both frees), S O'Connor (0-6, 1 mark), O Eastwood (0-1). Subs: P Hamilton for C Lyttle (41), E Gibson for R Kennedy (44).
GORT NA MÓNA: T McCaffrey; C Devlin, T McGoran, Christopher Browning; B Burns, A McDonagh, D McErlean; C Magee, Conor Browning; D McClean, D Boyd (0-1), C Donnelly; P McCaffrey (0-2, 1 free), P McHugh (2-0, 1 penalty), D McVeigh (0-1). Subs: M Savage for C Devlin (35), M Rea for B Burns (50), P Mulvenna for Conor Browning (55).
REFEREE: Eamonn McAuley (Cargin)