SEAN McComb cruised to an 11th straight professional win in Wakefield last night as he scored a unanimous points victory over Siar Ozgul.
The Turf Lodge man took the verdict on all three judges' cards (99-92, 97-93, 97-93) and was out of sight in this contest before Ozgul mounted a late rally that saw him nick a couple of competitive rounds.
This fight was McComb's last at light-welterweight as he plots a move down to 135lbs and the advantages he enjoyed last night in terms of height and reach will be even greater in the future.
His long, southpaw jab was on point as usual, as was his tremendous footwork and while he did get drawn into a fight up close in the final third of the contest, he was comfortable despite finishing with a cut over his right eye that came from a clash of heads early on.
It was an impressive outing from 'The Public Nuisance' who was happy to be back in the ring soon after restrictions have been lifted having seen a proposed fight with Craig Evans in spring cancelled due to lockdown.
"It felt good," he said after.
"I'm very fortunate to be out so soon after lockdown to showcase my skill.
"I was working with Terry Flanagan and Jack Catterall in Manchester (for the Evans fight) then it was all pulled away due to Covid-19. That was hard to take but I got to spend time at home working on new things and have time with my friends, family and girlfriend, which I don't get to do much as I'm in Glasgow all the time training.
"I took the positives from than and came back into camp early so I'm just thankful to get the win and perform like I did."
It was an impressive start from McComb who used his long, right jab from southpaw to keep Ozgul out of striking range and mixed it with lead rights and picked a nice uppercut.
He continued to command the centre of the ring and worked off the jab finding an excellent left through the middle towards the end of the second as he settled into his rhythm.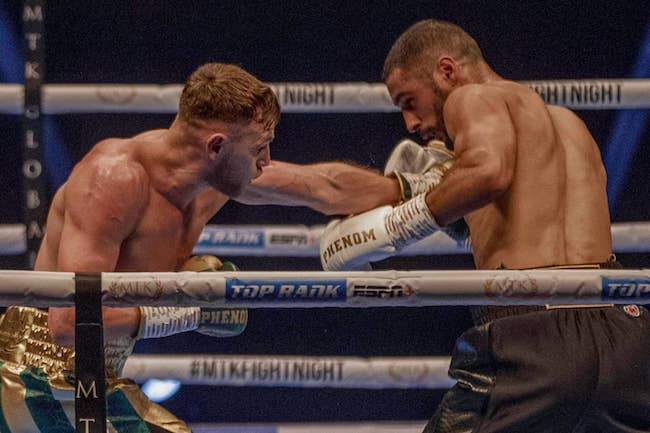 A clash of heads appeared to open a cut over the Turf Lodge man's right eye in the third, but he was happy to step back and counter when needed and boxed crisply for the most part.
Ozgul knew he needed to try something different and did press forward, but his attacks were mostly crude with McComb's movement keeping him a step ahead as he began to get through to the body again and banked yet more rounds at the fight got to the midway stage.
As the fight moved into the second half, Ozgul was simply trying to gain any kind of a foothold, but he was being outfoxed by a much superior boxer in McComb who was looking much fresher, boxing well and putting some crisp flurries together, landing a couple of lefts through the middle.
The seventh was the most competitive round of the fight to date with Ozgul pressing on the gas, getting up close and landing with a couple of hooks and the action was mainly up close again in the eighth as Ozgul was able to enjoy some limited success, but McComb had the ability to spin away from danger and put his long punches together.
McComb was bundled to the ground early in the ninth from a push and appeared to develop a problem with his eye in the aftermath. Ozgul tried to capitalise and pushed forward, whipping in heavy fire but McComb recovered to finish the round strongly and in the 10th, was able to coast home.
He confirmed after that the lightweight (135lb) division is where his future lies and believes there are a number of options as he pushes on to what he hopes are title opportunities in the near future.
"I'm very tall, skinny and like they would say in Belfast: build like a Long Kesh roll-up," he added.
"I have a really good nutritionist, Stephen Floyd, who works with me and I weighed-in at 139 so just another four pounds to go. I put all my trust in that man's hands and I will believe I will make 135.
"That's a great weight-class. James Tennyson won a British title there last week - a phenomenal fighter - and I think he'll move onto bigger things.
"I don't know what the craic is with Craig Evans because he was was in training to fight me before, so I don't see why he can't again.
"If Paul Hyland wants the fight he can have it. We're both with MTK so it can be easy made."