Northern Switchgear Antrim Senior Football Championship, Group Two
O'Donovan Rossa 1-9
Lámh Dhearg 2-9
FIRST half goals from Conor and Ryan Murray saw Lámh Dhearg take a firm grip on Group Two of the Antrim Senior Football Championship as they emerged three-points winners from Rossa Park today.
The first half majors helped the Hannahstown side into a two-goal lead at the break and whilst Rossa did get back into it with a Colm Fleming goal, they were unable to get any closer than two in a scrappy second half that saw both sides finish with 14 players and Lámh Dhearg earning two black cards in the process.
It wasn't exactly a game for the ages but was keenly contested, with the second half in particular extremely stop-start with wrestling matches breaking out whenever Lámh Dhearg had players in the sin bin, which prevented any real flow in play developing.
Still, the visitors made the most of their opportunities on the day and were always able to find a reply when Rossa looked like they may get back into the game, with breakaway points towards the end sealing victory.
Having won their opener last week against St John's who drew with Rossa in midweek, Lámh Dhearg came into this game knowing a win would leave them in a very healthy position on top at the midway point of the group.
They did what they needed to do on the day as those first half goals gave them a cushion they would manage in the second period.
The visitors were first on the board a minute in when good build-up play saw the advancing Ben Rice picked out and the speedy corner back slotted over.
Rossa were quick to get into the game also as they responded a minute later with Colm Fleming pointing off his left boot and Dominic McEnhill put them in front with a fine score.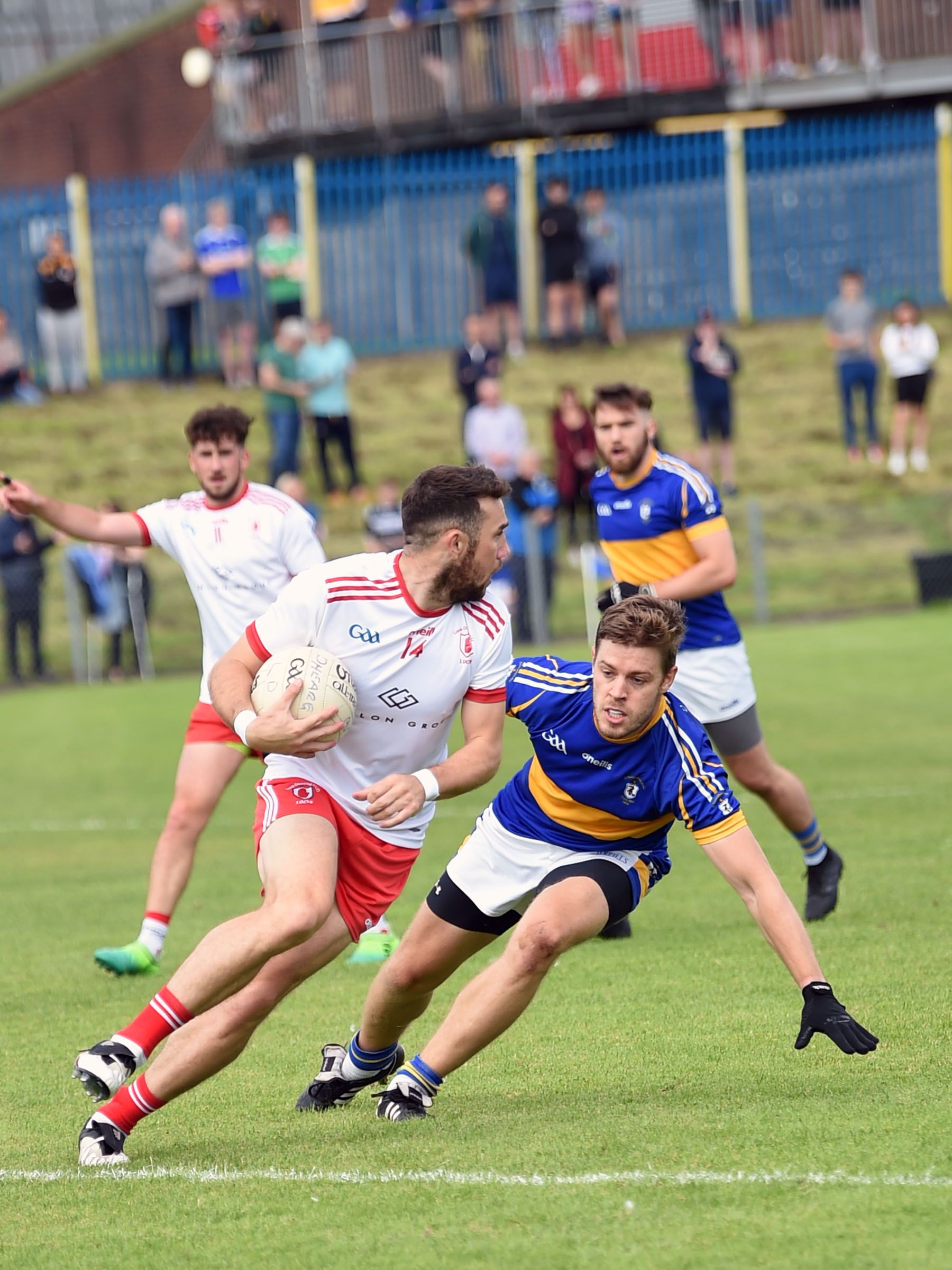 Thomas Morgan then burst through to blast over and establish a two-point lead, but Lámh Dhearg began to take charge with their speed of movement causing problems as they were able to find a spare man to create the openings.
Ryan Murray save a rasping shot at goal tipped over by Mick Byrne and then Conor Murray played in Eoin McKeown to level.
A Ryan Murray free put the Red Hands back into the lead and it was to get much better moments later when a long ball aided by the breeze saw Conor Murray get goal side and he made the most of things as he out-jumped Stephen Shannon, turned and thumped to the net.
Rossa regrouped at the water break and Morgan played a neat one-two to curl over, but the hosts were rocked straight after as on 22 minutes, another lapse from a long ball in saw Ryan Murray profit to gather and find the net.
Into the wind, Rossa were having trouble finding the target with a couple of wides and shots hanging in the breeze to drop short as they got to the break trailing by 2-4 to 0-4.
Lámh Dhearg were quick to add to their lead at the break with Rice again bursting forward to point, but he was soon to be sent to the sin bin for 10 minutes after checking the run of Conal McDonald.
Dominic McEnhill brought Rossa back to within two goals with a magnificent score from the right, but the game then began to be disrupted with various off-the-ball tangles that resulted in yellow cards for Lámh Dhearg's Ryan Murray and Michael Herron, plus Rossa's Ciaran Orchin and Gerard Walsh.
This was not what the hosts wanted with the 10-minute numerical advantage as the ball was out of play more than in, but they did strike for the goal their challenge needed on 44 minutes as a long ball resulted in a bit of a scramble with Fleming getting his toe to the ball to guide it into the net.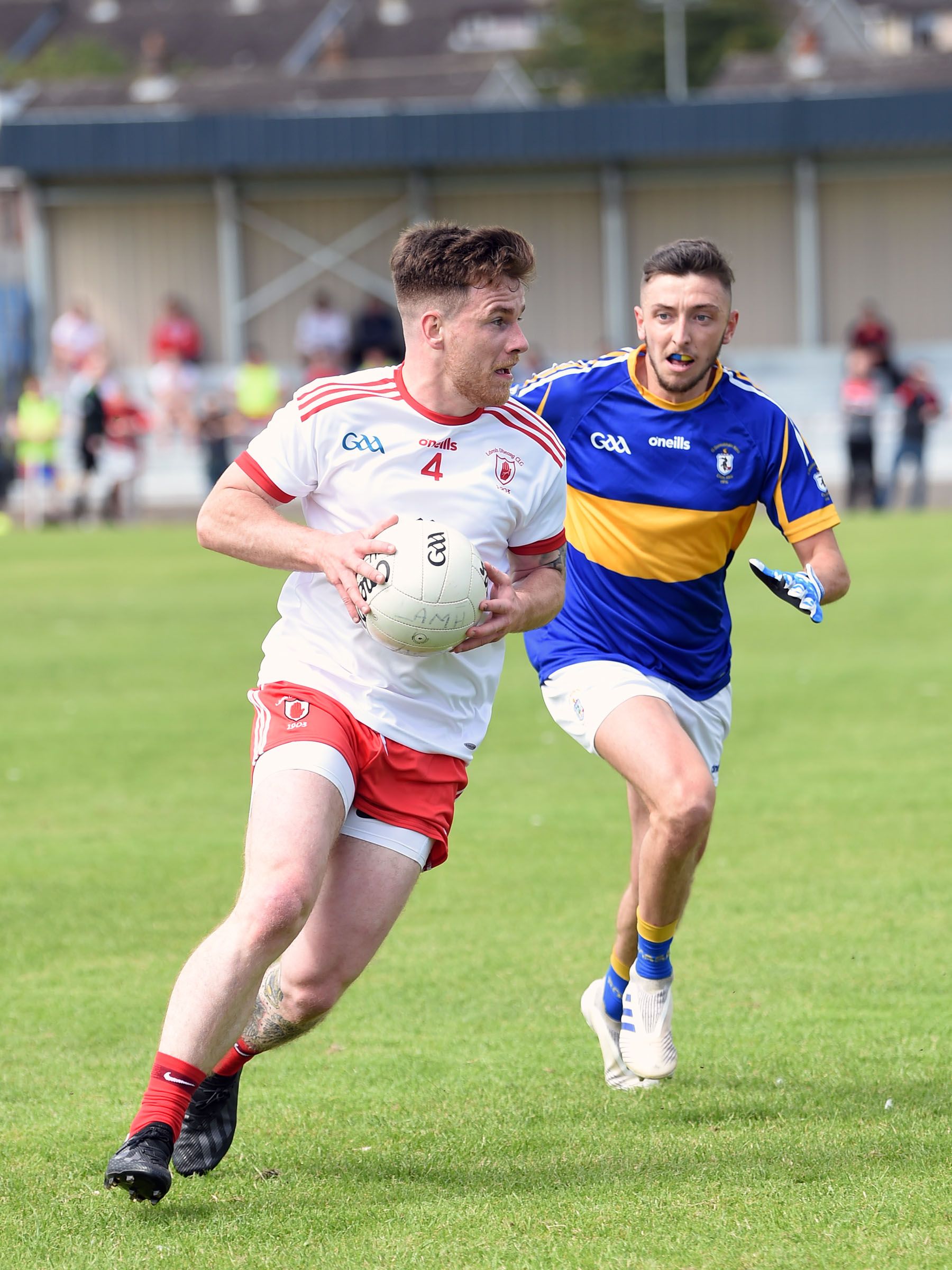 Colm Fleming added a free as the gap was reduced to two, but Lámh Dhearg hit back immediately with Ryan Murray kicking a free at the other end to leave it 2-6 to 1-6 at the water break.
Ben Rice extended the Lámh Dhearg lead with his third point of the afternoon and Rossa were reduced to 14 players on 54 minutes with Orchin picking up a second yellow for a high challenge on McKeown.
Still, the hosts continued to press and McDonald forced a smart stop from John Finucane when he got a sight of goal, but the rebound didn't fall kindly for Rossa as Lámh Dhearg managed to clear the danger.
Lámh Dhearg were back to 14 soon after as Conor Murray was sin binned for trailing Sean Pat Donnelly down and after a Colm Fleming converted a free to leave a goal between the teams, the visitors were then reduced to 13 as Ryan Murray received a second caution for again getting involved in a bout of wrestling after conceding a free as the game moved into what turned into 10 minutes of stoppage time.
Conal McDonald reduced the arrears to two with a good point on the left, but with Rossa chasing the game, they pushed up, leaving gaps at the back and from a breakaway, Lámh Dhearg counter-attacked well with Carl Maxwell in space to score.
Dominic McEnhill kicked another excellent point from range to leave two in it once more, but Rossa couldn't engineer the goal they needed to snatch the game as Lámh Dhearg defended well and from another counter-attack, McKeown raced clear to fist over the insurance score to seal victory and top spot in the table for the Hannahstown club who now have one foot in the knockout stages.
ROSSA: M Byrne; C Orchin, S Shannon, N Crossan; G Walsh, R Gowdy, D Murphy; S Beatty, C McGettigan; M Armstrong, SP Donnelly, D McEnhill (0-3); E Fleming, C Fleming (1-3, 0-2 frees), T Morgan (0-2). Subs: C McDonald (0-1) for E Fleming (28), M Mallon for D Murphy (45), D Armstrong for T Morgan (60+1).
LÁMH DHEARG: J Finucane; M McGarry, P Larkin, B Rice (0-3); D Lynch, M Herron, M Jordan; P Fitzsimons, D Dunne; E McKeown (0-2), R Murray (1-3, 0-2 frees), B Herron; K Quinn, C Murray (1-0), T McCrudden. Subs: C Maxwell (0-1) for M Jordan (8), D Stranney for D Lynch (34), P Cunningham for D Dunne (44), D Lynch for P Larkin (60).
REFEREE: Colm McDonald (St Gall's)