McComb's Transport, Irish FA Intermediate Cup final
Dollingstown 2
Newington 0

SECOND half goals from Gary Liggett and Johnny Kernaghan sealed the Intermediate Cup for Dollingstown at the expense of Newington at Annagh last night.
Stephen Upritchard's side struck two minutes after the restart from former Irish League striker Liggett, with Kernaghan guiding in a super second on 71 minutes with the North Belfast side chasing the game.
It just wasn't Newington's night as try as they might, they couldn't get a period of dominance in front of goal to turn the tide despite substitute Michael Gallagher making a good impact when introduced and the winger saw an effort cleared off the line when his team were one down.
Still, Dollingstown were full value for their victory as they created much better chances and despite the odd score, were comfortable on the night.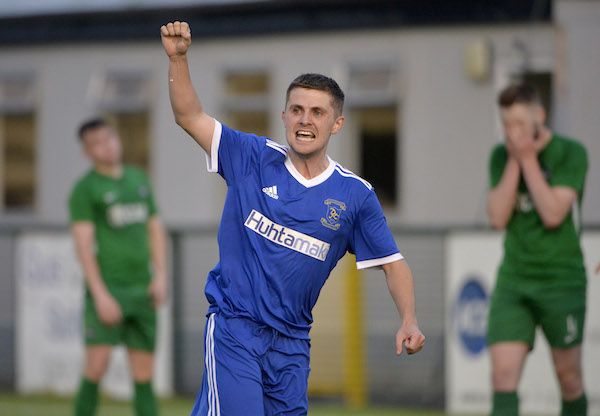 "To concede a goal so early in the second half was hard to take," admitted Newington manager Conor Crossan afterwards.
"It was disappointing we couldn't get our way back into the game as we never looked like scoring in the second half. We had a couple of half-chances but I thought Dollingstown probably deserved it overall.
"We had one (chance) in the first half when their defender put it wide when it could nearly have been an OG, then in the second half we had one cleared off the line that could have made it one-each.
"That's just the way it goes. Somebody has to win and somebody has to lose; unfortunately it just wasn't our day."
With Windsor Park out of action due to today's Irish Cup final, this game was set for Annagh, just on the outskirts of Portadown and not far from Dollingstown's home base, but it was actually Newington who made the better start on the night.
Despite playing into a tricky wind that saw any high punts upfield hang in the breeze, the North Belfast outfit got the ball down in the early stages with Patrick Downey cutting in on the left to play a decent cross that was well cut-out by Dollingstown goalkeeper Steven Maguire.
On seven minutes, Newington had their first half-chance when Kevin Bradley sprayed a free-kick out to Anthony McGonnell out on the left who delivered a fine ball in to the head of Chris McFall and captain, Richard Gowdy followed in to get ahead of Maguire, but could only lift his efforts high on the stretch.
An inviting low ball across the face of goal from Ethan Devine evaded everyone soon after as it appeared Newington were getting closer, but Dollingstown settled and began to win the second ball around the middle of the park.
Liggett had their first shot on goal with a fine strike from outside the box, but Newington goalkeeper Marc Maybin was equal to the effort.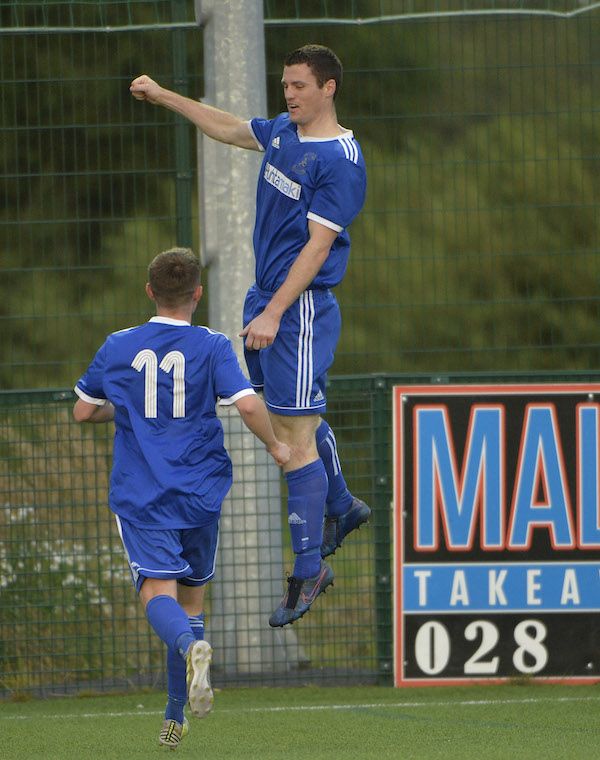 On 15 minutes, Maybin was called into action again when Kernaghan had a shot outside the box that looped up off the boot of Neil Cummings and seemed destined for the net, but the goalkeeper scrambled back to tip over.
Kernaghan had a shot on the half-volley that Maybin was again equal to, while at the other end, Newington almost found themselves ahead when Maguire came and missed a corner, with a Dollingstown played getting his head to the ball that just went outside of the post when it nearly could have ended up in his own net.
However, a pattern had been established with Dollingstown now on top and Liggett dragged wide when put through by Keith Johnston and on 39 minutes from a quick break, Liggett spotted Maybin off his line and tried his luck from just inside the Newington half with his shot on target, but the goalkeeper recovered to save.
They went closer again on 41 minutes when a loose pass was seized upon by the impressive Nathan McConnell who lifted the ball over Maybin, but Aodhfionn Casey just about got back to clear off the line.
Kernaghan then saw a curling shot go outside, but Newington had managed to see out the half and with the game scoreless, they would have been relatively happy with he breeze at their backs for the second period.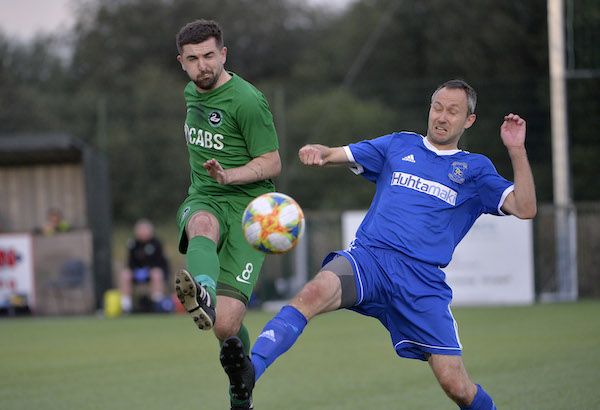 However, those hopes were quickly undone two minutes after the break as Johnston played an inviting cross in from the right. Maybin came out, but Liggett rose highest and got his head to the ball to guide it into the net.
On 53 minutes, Newington then almost benefitted from a slice of luck from another deflection as Sean O'Reilly crossed fro the right with the ball again looping up and this time it was Maguire's turn to adjust and tip over the ball sailing over his head.
From the corner, Michael Gallagher saw his effort come off the post, but Newington's moments were fleeting and on 71 minutes, their task became even more difficult as again, Johnston was the provider as he clipped in a low cross from the left and Kernaghan caught it in stride, guiding the ball beyond the outstretched Maybin off the inside of the post and into the net.
Liggett saw a low drive saved by the feet of Maybin moments later with Newingoton now committed to the attack with Gallagher again unlucky as he got a head to a low cross that was scrambled clear, but they were almost caught on the break on a couple of occasions in the home straight as they held firm for the victory.
With both teams playing their first game in over four months in last Friday's semi-finals - ironically the quarter-finals of the competition - both may have been understandably a little rusty still, but there were no excuses from Newington for their defeat.
"The quarter-final was our last match (before lockdown)," noted Crossan.
"Dollingstown were in the same boat but we just had to look after our own ship. That's not an excuse as it could have been an advantage going from the semi-final straight into the final but unfortunately it didn't work out that way."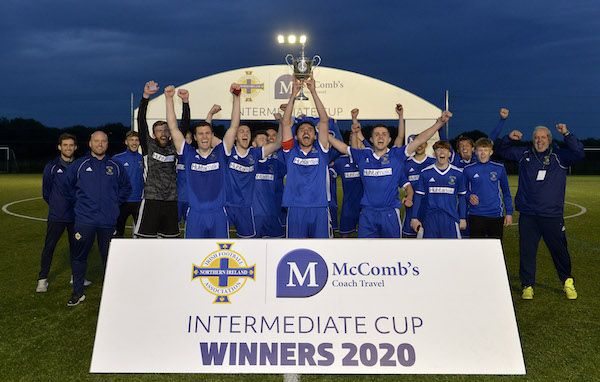 The only gripe was that the game wasn't played in its traditional venue - Windsor Park - or another top ground, but it wasn't possible although Crossan felt it was unfair to those who have followed the team all season being denied the opportunity to watch the final.
"I was disappointed the IFA decided to play it here as Dollingstown is only up the road and they played their semi-final here so they would have been confident knowing the pitch a wee bit better than us," he added.
"I was disappointed with how the competition was handled as I think there was a lack of respect in that we didn't get a reply to emails about getting passes - not for supporters - but for committee men who have travelled the country with us this year.
"We played every match away in this competition and also in the Steel & Sons, so even form parents not to be able to come down was disappointing, but that's a side issue."
DOLLINGSTOWN: S Maguire, S Toman, N McConnell, P Mooney, A Rodgers, A Moffett, S Jones (G Hand 72), D McCullough (E Rea 87), G Liggett, K Johnston (A Patterson 83), J Kernaghan (R Thompson 84)
Goals: Liggett 47, Kernaghan 71
NEWINGTON:NM Maybin, S O'Reilly (P Pierce 79), A McGonnell, A Casey, K Bradley, R Gowdy, T Mulvenna (P Scollay 72) N Cummings (D White 79), E Devine, P Downey (G Dempsey 72), C McFall (M Gallagher 54).
REFEREE: Louise Thompson