The Divis area remained tense this afternoon after a large force of riot police moved into the area to remove bonfire material being stored off Ross Road.
Tempers flared between some locals and the police who had cordoned off Albert Street and the surrounding area.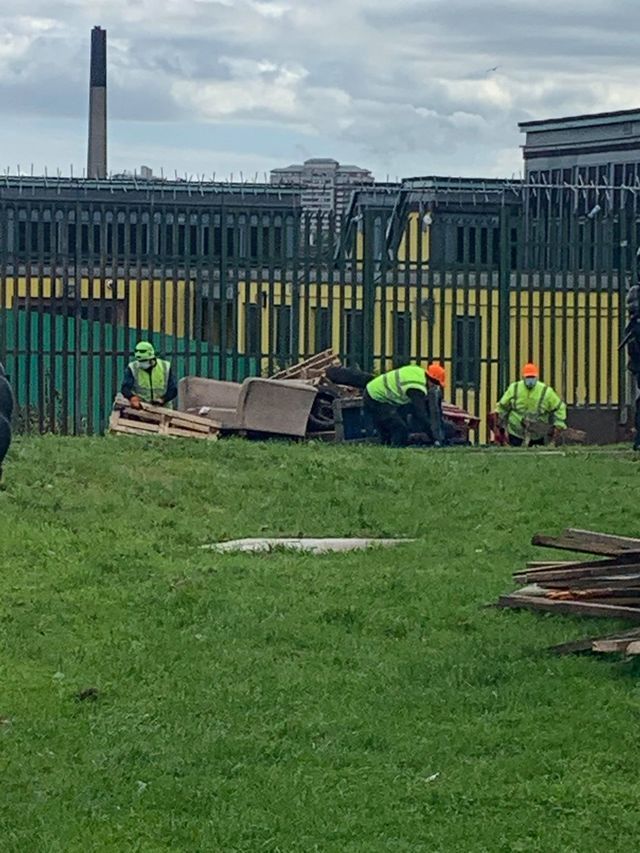 Political and community representatives had lobbied for the material to be removed before this weekend's anniversary of internment.
20 JEEPS OF PSNI AT DIVIS TRYING TO REMOVE THEIR INTERNMENT BONFIRE!!! pic.twitter.com/CiQ7GgZ2Dy

— Cmd. Eochaidh na hÉireann - ⭐⭐⭐ - (P-Anon) 🇮🇪 (@One_Shot_Paddy) August 7, 2020
Trouble surrounding what locals dubbed "the hoods' bonfire" had been a feature of the 9 August anniversary in the Divis area in recent years when anti-social elements built a bonfire on what is now the site of Raidió Fáilte. There are hopes that this year the event will pass without incident.
The IRSP accused the PSNI of antagonising local young people. 
In what was a resolved situation has now took a turn due to the anti-community actions of the PSNI in Divis.

Kids who had accepted the removal of their bonfire now gathering.

IRSP activists on the ground trying to calm the situation while PSNI continue to antagonise. pic.twitter.com/ldtEBnaXJq

— IRSP Belfast (@BelfastIrsp) August 7, 2020