HAVING built his career quietly and methodically, overcoming adversity and triumphing against the odds on occasion, it seems the deck is now firmly stacked in favour of James Tennyson as he prepares to face Gavin Gwynne for the vacant British lightweigtht title tonight (Saturday, live on Sky Sports from 7pm).
The 26-year-old may be coming into his prime, but has already had 29 professional contests, claiming Celtic, Irish (at two weights), WBA International (two weights), Commonwealth and European titles, fought for a world title and has now just inked a promotional deal with Eddie Hearn's Matchroom Boxing. Yet the feeling is there is much more to come from the Poleglass puncher who will look to complete the set of title belts outside of world honours against Gwynne, literally in the back garden of Matchroom HQ in Essex as part of the promotional organisation's 'Fight Camp'.
The secret has long been out for local fight fans who have been well aware 'The Assassin' brings non-stop action, excitement and ferocious punching to the table having stopped 22 of his 26 victims, whilst he has also proven his heart by picking himself off the floor rebuilding after three career defeats: the first against unknown Pavels Senkovs at the Odyssey back in 2013 when just a pup; a British featherweight title defeat to Ryan Walsh when beyond struggling to make nine stone; and again struggling to make super-feather having matured physically over the years in that world title defeat to Tevin Farmer two years ago.
Since making the switch up to lightweight, Tennyson has finally looked comfortable at the weight and the results back that up as he has stopped all four opponents at 135lbs leading into Saturday's showdown against the Welshman.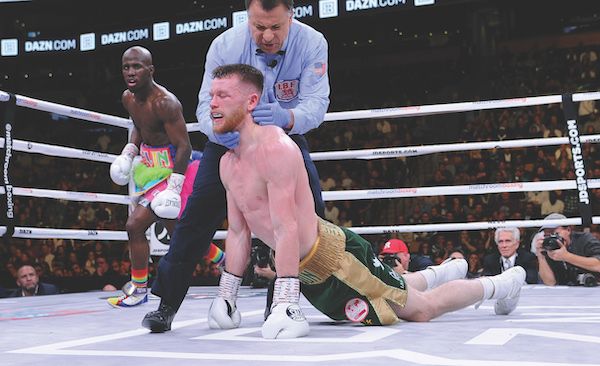 Indeed, there was a buzz in his voice as we spoke on Monday having just completed the check weight before flying to England with trainer Tony Dunlop and manager Mark Dunlop ahead of what could be a huge breakout fight for Tennyson.
"This is honestly the best I've ever felt so I'm really looking forward to getting in there," he confirmed.
"It's crazy how much of a difference these extra pounds make. Mark and Tony were saying to me the other day they've never seen me with this much energy. There's still a bounce in my step when making weight and I'm getting full sessions in, eating full meals and getting all my water. It's not what I'm used to.
"I'm used to running about starving myself and half-dead from being so drained making the weight so this time I feel so good and healthy, and I can't wait to get the show on the road.
"Previously, about two or three weeks out you would have to start watching your food to start bringing the weight down so my energy levels weren't great when I was doing that at featherweight and super-feather.
"A lot of my camp then was based on making weight whereas this has all been around learning what I need to do and focus on the fight rather than the weight so it's just a matter of getting in and doing the damage."
That is bad news for Gwynne who will have his own ambitions to claim a British title for the first time.
The 30-year-old's sole blemish on a 13-fight career came against Joe Cordina - who relinquished the title to move down in weight - just under a year ago, but the all-Welsh battle was competitive throughout as Gwynne proved he can be a handful at this level.
 
Power
Just two of his 12 wins have come via stoppage, so Tennyson certainly has the edge in power, but the relentless style of both suggests this could be the proverbial 'fight in a phone box' and Tennyson insists he is ready for such a battle.
"I'm expecting to have my hands full with him," he acknowledged.
"He gave a really good account of himself against Joe Cordina on the night I knocked out (Atif) Shafiq. 
"He is a tough guy, really fit and was always in the fight against Cordina. There were even times it looked like he could take over, so I'm expecting a tough fight against him and I have prepared for that.
"I had some great sparring against Stevie McKenna down in Monaghan so we are confident after those rounds and ready to get in and do the business."
The pair were due to meet in Cardiff back in May, but life - or Covid-19 to be more precise - had other ideas with the fight postponed until the first available opportunity that arises this weekend.

For boxers, it was a tough couple of months with limits to what training could be done at home given sparring and pad work with trainers was out the window, but like all, Tennyson did what he could to stay in shape and ready himself for when the call came.
"Before they called lockdown I had been training for the fight, down in Paschal's (Collins) gym in Dublin two or three days a week," he recalls.
"I was getting good rounds in with Ray Moylette and all those lads, so things were moving along nicely. Then lockdown was called, no fight and the gyms were closed so it was all a bit unknown for us all.
"Before lockdown happened, I actually had ordered a punchbag and some training equipment to get a set-up in the house so I was lucky I did that as I had all that gear to keep me going when I was in the house.
"There was no sparring, no pad work with Tony, just me doing my runs so it was wild."
As mentioned, Saturday's fight card is the first of four as part of 'Matchroom Fight Camp' behind closed doors.
Instead of opting for a studio or empty hall, they will instead use the plush back garden of their HQ, the former Hearn family home that has been converted into offices and overlooks the city of London.
It will be a unique setting, but the lack of punters will be nothing new to Tennyson who has boxed early in the night on previous Matchroom cards including his recent wins over Shafiq and Craig Evans.
"The set-up for it looks unbelievable so it got me excited just seeing it," he confimed.
"The dressing rooms are at the side of the house so I will be walking around the side of the house, going down the steps and into the fight arena so it looks incredible.
"I said to Tony that when we've been on the bigger shows, it's always been early so you only have your own tiny crowd there. When you factor in the size of those arenas, then it can feel completely empty. Same when sparring in the gym, it's only me, Tony, the other fighter and their trainer so again it's so similar."
There will be no early start this Saturday because as a full member of the Matchroom roster now, Tennyson will fight as chief support on the night.
Having inked the deal with Hearn, Tennyson's profile outside of his home city has skyrocketed with the English promoter predicting big things for his new signing and Tennyson - who mainly built his career on the small hall circuit away from the TV cameras - is enjoying being front and centre.
"It's been unbelievable how much they have been pushing me," he continued.
"A few people have said about the amount of publicity I have got and that's great. I've enjoyed it all and lapped it all up as it's made it a great build-up for me.
"The fights and titles Matchroom put on for me when I wasn't even under contract to them before was unreal. They brought me into an IBF world title fight just because Mark and Eddie have a good working relationship.
"I'm looking forward to seeing where we can go now being a Matchroom fighter now."
The next step begins against Gwynne when Tennyson will look to add the Lonsdale Belt to his bulging collection. Yes, there is a bigger target down the line, but this is about continuing his impressive run at lightweight and blasting his way into the world title conversation. The styles should gel to make it an exciting scrap while it lasts, but Tennyson has that dynamite in his fists to prevail inside the distance.